Mr. Martin (Marden) Xavier Fernandes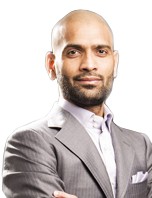 Mr. Fernandes today, is a private investor with over 22 years of experience in Equity Investment & Placements, Investment Banking, Corporate Finance, Mergers & Acquisitions, Business Process Re-engineering Consultancy, et al.
Having built his capital from Investment Banking, he invests in various markets and India is the market with his largest exposure. His current investments encompass companies across sectors like Oil & Gas and Natural Resources, Renewable Energy, Sustainable Technologies, Quantum and Nanotech Solutions, Consumer Durables, Print Media, Financial Services, Broadband Multimedia Services, Metals & Mining and allied Services, Core and Allied  Infrastructure  & Engineering, etc.
He has advised capital raising  (vide equity instruments) for various companies based in India across sectors like Consumer Electronics, Oil & Gas, Mining, Pharmaceuticals, media, Steel, etc.
 
He is the founder chairman of Theseus Group, catering to Institutional Investors and Corporate clients, having a strong presence across India and has advised investments in excess of US$ 15 Billion into India from Global Investors.He shares an excellent inter-personal rapport with Corporate India and is highly networked with Indian and Middle-Eastern policymakers.
  
He is a qualified MBA.He serves as a director on and as a strategic Advisor to the board of various companies in India.