Mini Hydraulic Excavators
An extensive line of Cat Mini Hydraulic Excavators offers the performance to dig in and be productive on every job.
Net power, 13 hp to 55.6 hp
Operating weight, 2060 lb to 18519 lb
Operating weight with cab, 3792 lb to 18519 lb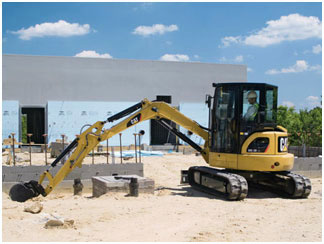 Small Hydraulic Excavators
The D-Series Small Hydraulic Excavators include a world-class cab, a C4.2 engine with ACERT™ Technology and improved performance and lift capability with best in class versatility.
Flywheel Power, 80 hp to 125 hp
Operating Weight, 27514 lb to 43872 lb
Gross Power, 86 hp to 131 hp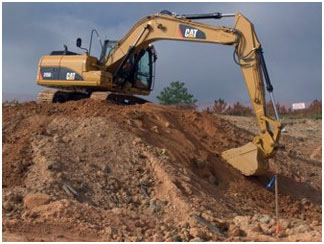 Large Hydraulic Excavators
The Caterpillar Large Hydraulic Excavators are for the customer who requires reliability and high production in bulk earthmoving applications and/or the capability to lift heavy pipe and structures in large water and sewer projects.
Net Flywheel Power, 291 hp to 523 hp
Maximum Travel Speed, 2.6 mph to 3 mph
Operating Weight, 100040 lb to 187360 lb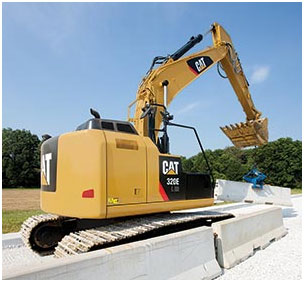 Ultra High Demolition (UHD) Hydraulic Excavators
Ultra High Demolition Hydraulic Excavators have been developed with an emphasis on stability, durability and ease of use.
Net Power, 270 hp to 530 hp
Operating weight, 105601 lb to 217596 lb
Max tool weight (over the front),5512 lb to 6614 lb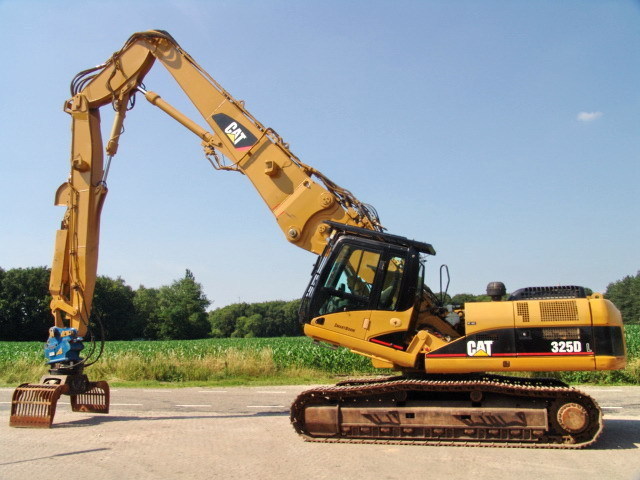 Small Track-Type Tractors
The Cat® small track-type tractors are designed to optimize speed, transportability, maneuverability, versatility and fine grading accuracy. These crawler dozers are ideal for residential construction performing such tasks as clearing and grading lots, sloping the sides of roads, back-filling, and final grade work for landscaping and driveway construction.
Power – Net, 74 hp to 96 hp
Operating Weight – XL, 17185 lb to 20741 lb
Operating Weight – LGP, 17842 lb to 21347 lb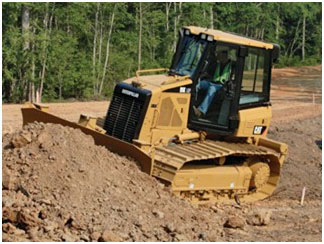 Medium Track-Type Tractors
Caterpillar's medium-size Track-Type Tractors deliver exceptional power, response and control, resulting in more production at lower cost-per-yard.
Flywheel Power, 125 hp to 235 hp
Operating Weight, 28409 lb to 57441 lb
Shipping Weight, 27802 lb to 47619 lb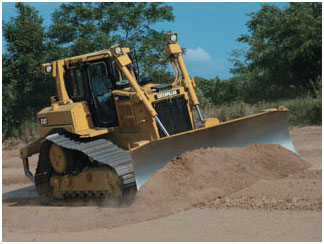 Large Track-Type Tractors
Caterpillar's large Track-Type Tractors are engineered for demanding work. Durable construction is ensured for tough working conditions. Elevated sprockets increase productivity, simplify maintenance, reduce downtime with modular components and raise final drives and associated power train components out of the work environment. Cat Track-Type Tractors keep material moving with the reliability and low operating costs expected from Cat tractors.
Flywheel Power, 310 hp to 850 hp
Operating Weight, 84850 lb to 229848 lb
Shipping Weight, 65152 lb to 106402 lb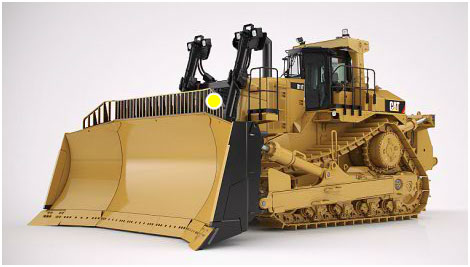 Crawler Dozers
Machines belonging to this category are otherwise called a bulldozer, which pushes earth and rocks with a blade installed at the machine's front end. Large- sized crawler dozers normally have a set of claws called a ripper that is installed at the machine's rear end and can crush a hard rock. Swamp bulldozers are equipped with an undercarriage that is configured to enable them to freely move around on a marshy land. As a fellow machine, there is a pipe- laying machine that lays down a large steel pipe in the construction of a pipeline and a dozer shovel (crawler loader) for loading.